When I attended the #BlogOnMOSI event in June it gave me many things.
Confidence to approach brands
Confidence to approach other bloggers
As part of attending the event, I was added to a Facebook group where I could find out the latest info about the event. It was on this Facebook group that I saw a message asking for bloggers interested in attending a bloggers event to review a product.
I have had invitations to these sort of things before, but mostly been unable to attend. The event has either been during the weekday (When I am at work) or in London (Some PR people forget not everybody lives in/near London!).
This event however was close. Close enough for me to attend. Not only that, it was being held at one of our favourite places…Eureka!! (I will do a separate post about Eureka so keep your eyes peeled!)
Onto the product!
Little live pets are like a new generation of the Tamagotchi! If you don't remember or are to young to know what a Tamagotchi was, it was a little computer you needed to feed and look after. They could interact with each other and if you didn't look after it properly it 'Died'
With a choice of bird or butterfly you can choose your own little pet to look after.
The bird…
The Little Live Pets Bird is the perfect way to have your very own pet bird! Your new bird will respond to your touch, sing, chirp and tweet just for you! The more you play with your bird the happier it becomes! When your bird is super happy it will even whistle you a special tune! Your Little Live Pets Bird can even talk back to you, use the button on your birds chest to record 10 seconds of your voice then listen as your cheeky birds talks back to you. 6 unique birds to collect
The kids loved the bird. If you stroke his chest, he will respond my "chirping" or "singing". LB took a shine to one and was VERY upset when we told him the birdy couldn't come home with us.
The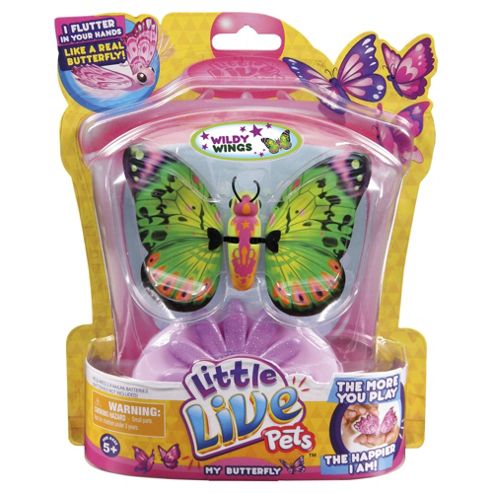 Butterfly…
Beautiful Little Live Pets Butterfly is your new pet friend that magically comes alive and flutters in the palm of your hand! Feel how real your new friend feels as it flaps and flitters its stunning wings just for you. Your Little Live Pet Butterfly feeds and gets energy from the included flower base, the more you feed your pet the happier she becomes. With her wings dancing magically in the palm of your hand this is the lifelike pet that every child wants! Six unique and individual butterflies to collect in the starter pack, batteries are not included.
The boys weren't too fussed with the butterfly. Although it was great that it can sit in your hand and flutter quite realistically, that is pretty much all the butterfly does.
If you've got the money to spend (Both sets sell for around £20 each) and you don't think your kids would simply get bored of them (Like I did with a tamagotchi), then they are a fun little toy to have.
If your aim is to teach your kids to care for something and ensure it is well taken care ofl there are probably better ways, but those would inevitably involve you cleaning out a cage at some point!.
Would I buy them? Probably not. LB was very sad to leave the birds behind, but I've seen that kid get attached to a rock before, so I know he is easily pleased.
Although the product didn't excite me a great deal, we had a great day out at Eureka thanks to the guys at Little Pets Live and it's a place I would recommend if you are in the area. i plan on doing another post soon about the museum itself, so keep your eyes peeled.
As always, thanks for reading.
L